Bend, Oregon (Jan 4-7) – SOLD OUT
Bailey, Colorado (June 7-10)
Granger, Indiana (June 21-24)
Shrewsbury, Massachusetts (July 5-8)
Freston, UK (August 9-12)
Have you been craving more real talk in your real life? 
I'm so thrilled to invite you to spend four days with me and a small group of kind, fun, wonderful people next summer.
The deep conversations you've been dying to have. Live podcast-style interviews with one or two favorite past guests. Quality time to work on a creative project of your own. An in-depth mid-year reflection & goal-setting workshop. Plus delicious meals, a relaxing and beautiful setting, and a few special surprises…
Our time together will be the perfect balance of community and solitude, deep work and hilarious fun, and you'll leave this retreat feeling strong, recharged, and inspired – not to mention infinitely less alone.
Where & when?
The January retreat in Bend, Oregon is sold out, but I am also hosting four summer retreats in four gorgeous locations for you to choose from:
Bailey, Colorado (an hour outside Denver) from 3pm on Friday June 7 to 10am on Monday June 10
Granger, Indiana (two hours outside Chicago) from 3pm on Friday June 21 to 10am on Monday June 24
Shrewsbury, Massachusetts (an hour outside Boston) from 3pm on Friday July 5 to 10am on Monday July 8
Freston, UK (two hours outside London) from 3pm on Friday August 9 to 10am on Monday August 12.
At each retreat we'll all be staying together (slumber party style!) in a beautiful, spacious, private house, located on a nature-filled property with plenty of space to enjoy fresh air and summer weather.
A mountain retreat on 2.5 acres, tucked away in the hills above Bailey, CO
Built in 1877 and remodeled with current comforts, our farmstead in Granger, IN is a registered historic home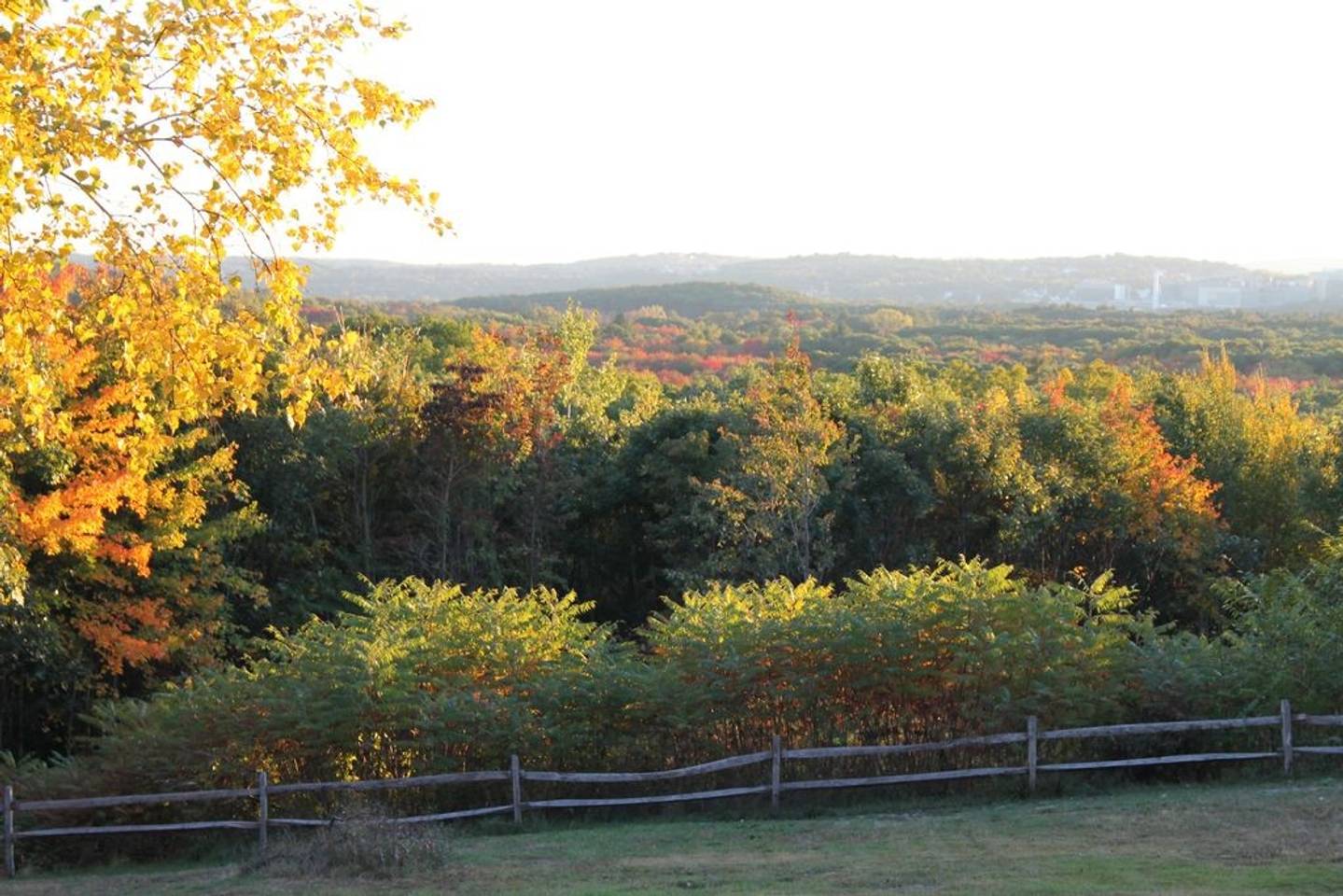 The view from our retreat home in Shrewsbury, MA, which overlooks the rolling Worcester hills for miles and miles
A converted dairy farm within the Suffolk Coast and Heath's Area of Outstanding Natural Beauty will be our home away from home in the UK
Who is this retreat for?
This is a women's retreat that welcomes all women, including trans women, genderqueer women, and non-binary people who are significantly female-identified.
This retreat is for you if:
You find yourself listening to Real Talk Radio and wishing you could join the conversations
You are interested in an immersive experience with very full days, blending deep conversation, solo creative work time, meaningful connection, luxurious rest, and pure pleasure
You'd love to dedicate time in 2019 to go through a holistic, guided reflection and goal-setting process to help you get a clearer understanding of what you want next, why you want it, and how to make it happen as you move forward through the year
You've been craving more openness, honesty, laughter, & friendship in your life
You love the idea of being part of a supportive group, and of contributing to a collective, non-judgmental experience for all
You've been dying to do some real talk in real time about all sorts of different topics
You'd love to treat yourself to the experience of an all-inclusive retreat where lodging, delicious meals, and lots of fun activities are custom-planned to give you the best four days imaginable
You value growth, joy, community, connection, honesty, and going beyond the surface level of typical small talk
You want to be surrounded by a group of kind people who will let you know that no matter what, you are not alone
Itinerary & Registration
These retreats are limited to eight to ten guests, depending on the venue, which ensures that each and every person has the best, most intimate experience possible. We'll get to spend so much quality time together with this small group size!
Half of the spots were filled during the October 2018 pre-sale for my Patreon community, and registration for the remaining spots will open on Monday January 21.
To join the waitlist and be the first to get all of the details (itinerary, cost, payment plan options, etc), simply add your information to the box below and click "subscribe".
I can't wait to spend four days on retreat with you!!
Kind words about My other event, Real Talk: Live
My favorite thing about the event was how everyone was so raw, honest and vulnerable. I can't believe how the group managed to cultivate a safe space in such a short time! For me, the biggest takeaway was that I'm truly not alone. After the event, a few attendees came up to me to thank me for sharing a personal story I told and then opened up to me about similar experiences that they've had. It meant so much that someone would seek me out and open up to me like that. If you're on the fence about attending a future event: go! This was amazing practice in vulnerability, and even though I was nervous beforehand by the end I felt so comfortable and safe with the group that I was able to share stories and feelings I've struggled to share with close friends. The women who attended taught me so much about self-love, acceptance and being present, and I love that we worked on listening and being there for each other without jumping in and giving advice. — Kaitlyn
Prior to this event I was kind of at a point where I was over trying to meet up and get to know more people (because making friends as an adult is HARD), but Real Talk: Live kind of restored my faith that my people are still out there and that taking a chance on an unknown event is worth it because what if the event IS awesome and what if the people ARE my people, you know? Nicole's work attracts those folks who are looking for real conversations, which isn't always easy to find in day-to-day life, but the connections I made here were intense, genuine, and heart-centered. I truly loved how simple and conversation-focused this event was. I can't think of anything that would have made this better for me. — Caitlin
There were so many good memories from this event, but the most powerful one happened while we were in those small groups sharing our answers to your questions. I was sitting there sharing and listening, but at the same time a separate part of me was soaking up the sounds of feminine laughter and chatter echoing around a room full of virtual strangers and realizing with a kind of detached wonder, what a glorious gift it was to be in the middle of that moment of vibrant communication. It took courage for me to sign up for this event, and then even more courage to actually show up and enter into the challenge of 'real talk', but it was completely worth it. — Jen
The most wonderfully vivid memory for me is when Nicole was emphatically talking about pubic hair and about whether we'd ever wax anything if we lived alone on an island. That was gold. On a more serious note, I loved hearing where other women stood on the topic of female sexuality (since that's my current obsession) and that almost everyone had something to say on the topic, whether about how menstrual cycles affect us, masturbation, how to feel radiant, feeling sexy vs looking sexy, etc. It was so refreshing to have that conversation with women who were willing to be open about it! — Kat
I am such a fidget – I have a very short attention span and can't sit down for more than a few minutes at a time without having something to knit/fiddle with. And yet, I basically sat in the same chair for 4 hours and I didn't check my phone once! I was fully engaged with what was going on, and the time just flew by. What I'm trying to say is that my favourite thing about the event was how in the moment I was, the event was so captivating. I loved it! It also gave me the space to share some of what I thought were my most shameful secrets, and you sincerely let me know that I am not alone. It was such a relief to here this, and I have already let go of so much shame. — Kate
It was just amazing meeting you on Sunday, Nicole. I was prepared for it to be awkward – you're so well known to us, and you know very little about us and sometimes that difference can create a distance. But it really didn't – you made us all like friends with you, and each other, which was really wonderful. I connected so much with the questions raised and conversations had, and found the whole experience to be very thought-provoking. I particularly loved how we all became a bit braver and a bit more honest as time went on, and it became so clear throughout the day that we are not alone. — Petra
Nicole, thank you so much again for this event – it was truly a lovely experience. I really appreciated that you were so open and welcoming with us all. I wasn't sure what to expect, and was a little afraid that I'd end up feeling like I'd wasted my money, but in the end it felt wonderful to make meaningful connections in a short time with the right people. I've been living a long way from my closest friends for the past few years, and have really missed this kind of interaction. Personally, I would have liked a little more time at the end of the afternoon to continue chatting with everyone – which for me is a true sign of the success of the event, because as an introvert, normally by that time I would have been desperate for my own space! — Liz
Cancellation Policy
When you purchase a ticket to one of my workshops, retreats, or other live events, please know that your ticket is non-refundable.
This means that even if your plans change, you can't cancel and get a refund.
But you can:
Sell your ticket to someone else
Give your ticket to someone else (lucky them!)
Attend a different event instead (depending on space availability, of course)
This lovingly tough cancellation policy reflects my commitment to you. I will show up for our event 100%, and I encourage you to do the same.
As my girl Alex (whose policies inspired me to create my own) says, "Just come. Don't flake out. Be brave & show up. It's good for the soul."